New Product: QR Code decals and Magnetic signs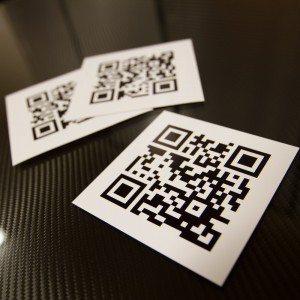 Introducing our new QR Code printed decals and QR Code magnetic signs. I'm sure you've seen these weird looking barcode type symbols starting to show up everywhere.
What exactly is a QR code? Well, QR is an acronym for Quick Response. QR codes are two dimensional barcodes that are designed to have their contents decaded at a high speed. QR codes are usually decoded with a QR reader app on your mobile phone with it's digital camera. The decoder transforms the data held within the QR code to a meaninful action for the mobile phone. You are not limited to just entering a web address. You can create a QR code that will dial a telephone number or prompt an email client with your email address already filled out.
It is easy to create your own QR code for free using our QR code generator. Or if you want a truly custom QR code, check out the folks over at QRlicious.com